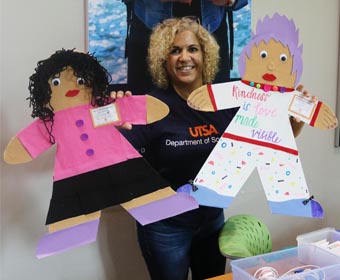 (March 25, 2019) — UTSA's campuses will soon be filled with colorful, two-foot-tall figures spreading an important message. UTSA Volunteer Services, VOICES, the university's student-run organization, and the UTSA Department of Social Work are partnering with ChildSafe, a local children's advocacy center, to bring the Cardboard Kids campaign to campus. For the first time, UTSA is serving as an official distribution site for this city-wide campaign. The goal is to draw attention to the pervasiveness of child abuse and neglect.
"ChildSafe is doing incredibly important work in our community," said Peggy Eighmy, first lady of UTSA and a member of ChildSafe's Board of Directors. "Taylor and I have been longtime, passionate advocates for causes that combat child abuse and neglect, and couldn't be prouder to support VOICES and the UTSA Department of Social Work in their effort to involve the entire UTSA community in the Cardboard Kids campaign. We are looking forward to seeing creative Cardboard Kids all over the Downtown and Main Campuses."
The San Antonio and UTSA communities are invited to join the effort. Anyone is welcome to come to campus to pick up a cardboard kid through March 29.
UTSA Cardboard Kids pickup locations:
Volunteer Services/VOICES Office, H-E-B Student Union (HSU 1.26)
Katz Alumni Center, Bauerle Road Garage (BRG 0.304)
Office of the President, Main Building (MB 4.122)
Student Center for Community Engagement, Student Union (SU 2.01.04)
Department of Social Work, Frio Street Building (FS 4.544)
Office of the President, Buena Vista Street Building (BVB 4.306)
The university is encouraging student organizations, athletics teams, offices and departments to come together and create cardboard kids and take part in a decorating contest presented by UTSA Volunteer Services and VOICES. Several groups are hosting decorating parties.
>> Learn about UTSA Cardboard Kids decorating parties.
Roadrunners can also decorate one on their own. VOICES staff will be accepting cardboard kids to display and participate in Reveal Day on Thursday, April 4. The kids will be judged in multiple categories by VOICES officers and members, along with special guest judge Peggy Eighmy. Judging begins at 11 a.m. on Main Campus and at 3 p.m. at the Downtown Campus.
Roadrunners are encouraged to take photos of the cardboard kids they discover and share them on social media using #CardboardKidsSA, #CardboardKidsUTSA and #UTSA.